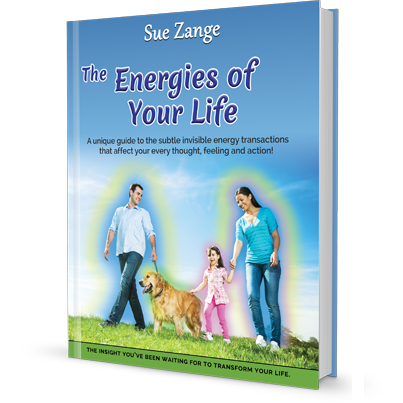 Buy Now
Available in Hardback and Softcover – (180 Pages).
Hardback – £17.95
Softcover – £14.95
If you would like your book personally signed by the Author – please ensure you enter name and message in the "Order Notes" at checkout, and please allow up to 7 days for delivery.
The Energies of your Life is available from 28th April 2015.
This extraordinary book is a revelation of knowledge that will help you manage your life on a daily basis. It offers insight into the world of 'invisible' subtle energies that influence every choice and action!
Unhappy with aspects of your life? Wondering how it got to be that way? Want to know how to transform your life to be better, happier and more successful?…
Then use this Book!  It is an education – to gain knowledge and insight into an invisible world that very few know anything about. And yet, these subtle energies affect your view on life, your creations, your peace of mind, and your emotional response to everything that happens.
The practical skills offered within this Book will help you:
~  Become aware of the energy transactions that affect you
~  Apply effective skills to keep your energy clear and vibrant
~  Find peace, clarity and understanding in your own life
~  Develop valuable skills for creativity and success
This is your opportunity to learn about your energy field, the movement of energy transactions that affect you, your emotional and mental balance, and of course, the energies of new potentials that can come into your life.
Discover how incoming energies from others may affect you. Learn how to empower your own daily living by commanding the energies you transmit out into the world. Learn techniques to keep your own energy clear and high in vibration. Discover how simple and easily applied energy management techniques can enhance the quality of your daily life.
Subtle Energy knowledge is a specialist field of understanding. Subtle fields are an unseen and mostly unknown, energy environment, and yet they power and influence every aspect, of daily life.
Without being aware of these energies, we cannot do anything to change them. By learning about subtle energies, you empower yourself to change your life for the better.